Aqua Nova Premium  Smoked Salmon
Our famous AQUA NOVA brand cold-smoked salmon is prepared from naturally fed ocean-caught wild #1 grade Pacific Salmon exclusively. Each salmon is carefully inspected for appearance and firmness, then hand filleted and closely trimmed to remove pin bones, bruises, and excess fat.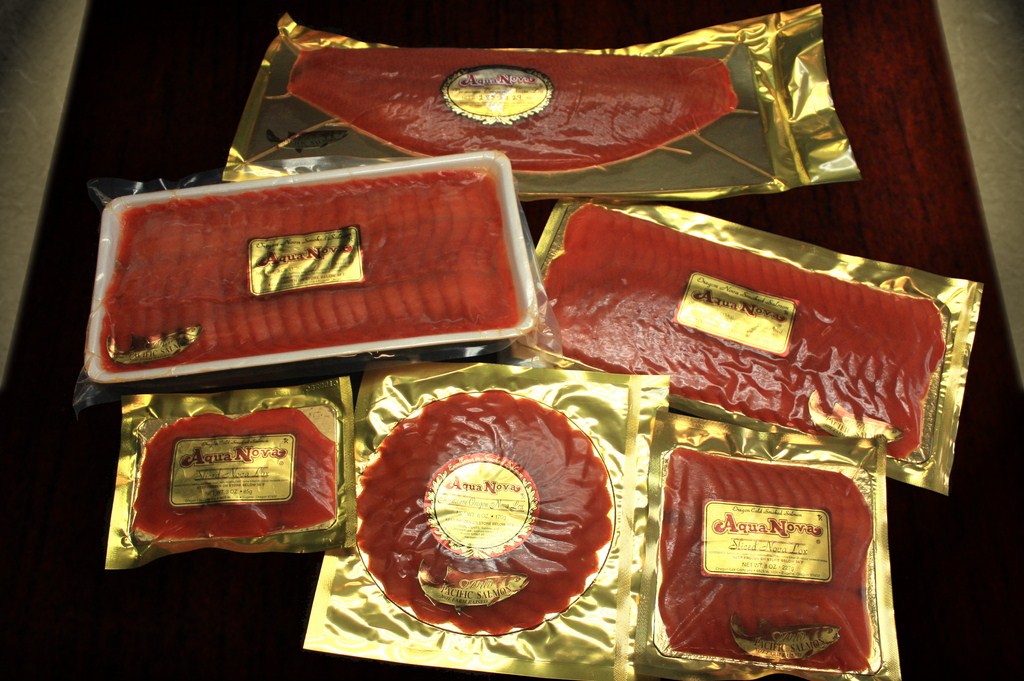 Click the thumbnails to zoom in




Our special Nova recipe is preferred by Chefs all over the nation for its wonderful mild taste. Our smoked salmon is enjoyed by all, even those trying a smoked salmon for the first time. Only the best ingredients are used. We use the lowest salt level permitted so you taste only the natural Hardwood smoked flavor of fine salmon. It is never fatty of fishy. The prestigious Chef in America's Association has three times awarded our smoked salmon it's Gold Medal for Excellence. We won the Seattle Smoked Seafood Show's 1st Place Blue Ribbon as well!
We are fully HACCP certified. Our products and facilities are inspected by the F.D.A., the State of Oregon and the U.S. Department of the Army, and always receive the highest marks for cleanliness and product safety. Our smoked salmon is certified KOSHER, meeting all standards of two Rabbinical councils and can be used without questions, including Passover.
AQUA NOVA brand Oregon smoked salmon is attractively gold vacuum packed in all the popular sizes. And can do custom products, packs and labels. You can count on the grate value and consistent high quality of our Oregon smoked salmon to satisfy your customers every time!